ComCom Takes Part in Joint UNICEF and USAID Media Literacy Conference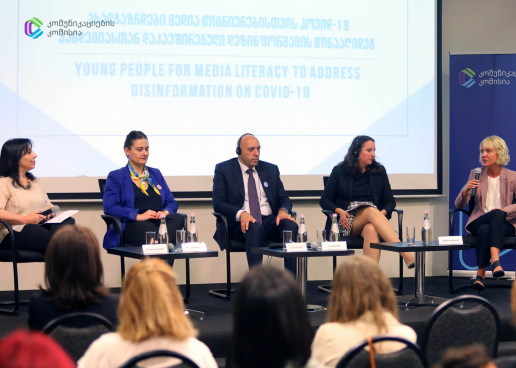 The Communications Commission took part in a conference organised by UNICEF and the Unites States Agency for International Development. The event was dedicated to the development of media literacy among young people and the fight against misinformation. The conference discussed the projects implemented with the financial assistance of USAID. ComCom member Natia Kukuladze talked about the importance of the joint project implemented by the Commission and the Ministry of Education and Science of Georgia in partnership with UNICEF, which aims to facilitate the implementation of media literacy in formal education.
Head of the Media Literacy Department Maka Dakhundaridze told the participants about the joint UNICEF and ComCom project. Project manager Ani Gvetadze presented the initial results of media literacy research and assessment that was carried out in schools as part of the project. Based on the results of the research, the Commission and the Ministry of Education and Science will develop an educational standard of media literacy, a guidebook and a corresponding training module for teachers at the general education level. New resources created during the project will be used to train teachers and trainers of the Teachers Professional Development Centre.
"As you know, the Communications Commission has been actively working since 2018 on developing media literacy in the country. Disinformation, misinformation and fake news present an enormous challenge in the modern world. The main weapon in the fight against these problems are citizens who are armed with knowledge and media literacy. I am delighted to be able to implement another important project in partnership with UNICEF and with the financial support of USAID. Naturally, the Ministry of Education and Science will be directly involved in the implementation process. The Commission has already cooperated with the ministry on numerous successful projects for teachers and pupils. However, the effort to implement media literacy in formal education is particularly important," Natia Kukuladze stated. During the panel discussions that took place at the conference, Ms Kukuladze highlighted the importance of media literacy both in formal and informal education.